🔥🔥 ℍ𝕆𝕋 ℕ𝔼𝕎 ℝ𝔼𝕃𝔼𝔸𝕊𝔼🔥🔥
𝗕𝗥𝗔𝗩𝗘𝗥𝗬. 𝗕𝗥𝗔𝗩𝗔𝗗𝗢. 𝗕𝗥𝗢𝗧𝗛𝗘𝗥𝗛𝗢𝗢𝗗.
LEO by Jay McLean is live!! Don't miss the third book in the New Adult/Coming of Age Series, The Preston Brothers!!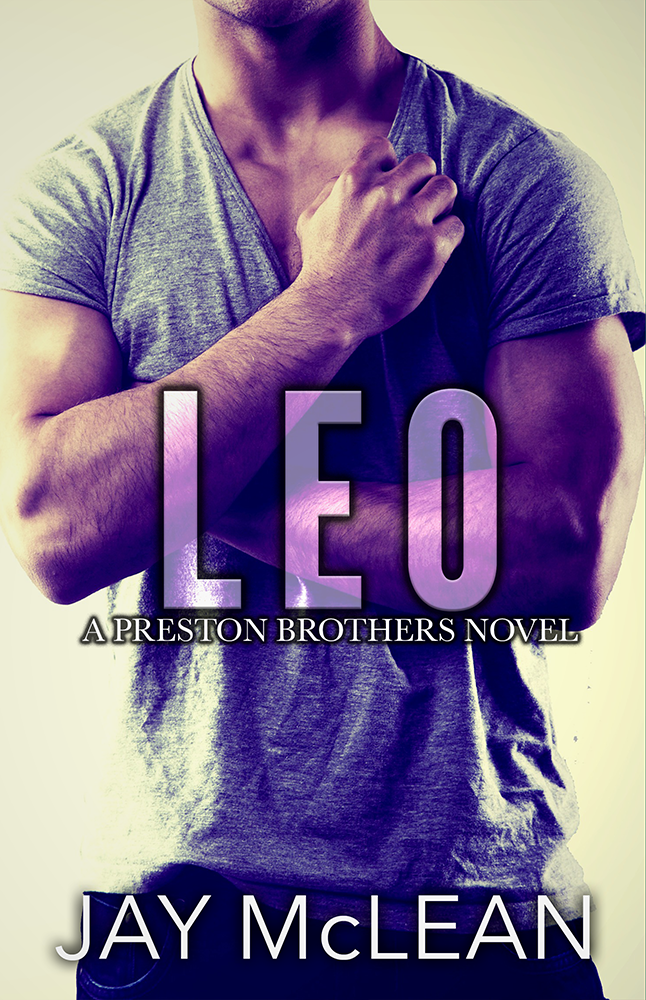 BLURB
One single summer changed them forever, and one moment of devastating silence destroyed it all.
Growing up with six siblings, Leo Preston has always struggled to find his voice.
While his brothers are loud, greedy, and somewhat obnoxious, Leo is forever the quiet one.
The thinker.
The listener.
He watches his life pass by as an outsider in his own world, absent and alone.
Lost.
Until he finds her.
For Leo, Mia Kovács is like a prize, a gift wrapped in passion and devotion.
And she's his—his very own secret he doesn't have to share.
Together, they can overcome anything…
heartache and destruction, guilt and regret.
Mia gives Leo everything he didn't know he needed,
including her fragile heart.
The only thing she doesn't give him…
are secrets of her own.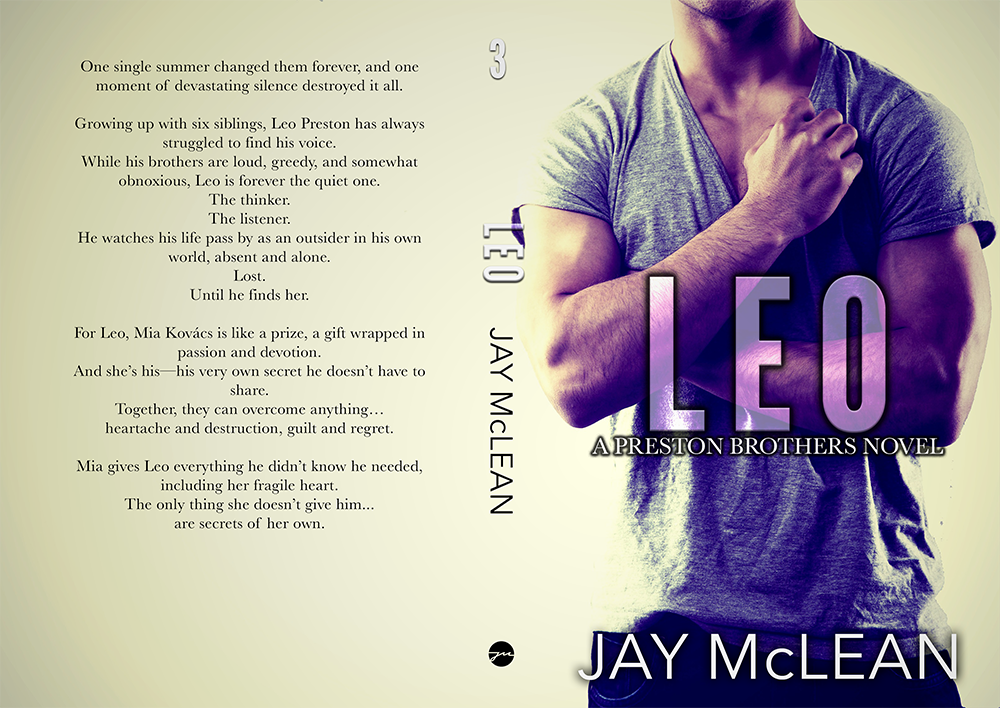 PURCHASE LINKS LINKS
Available on Kindle Unlimited!⠀⠀⠀⠀⠀⠀⠀⠀⠀
Amazon US ➜ https://amzn.to/3fs4hXZ⠀⠀⠀⠀⠀⠀⠀⠀⠀
Amazon Global ➜ mybook.to/LeoPB⠀⠀⠀⠀⠀⠀⠀⠀⠀
Add to Goodreads ➜ https://bit.ly/3fs3CFZ⠀⠀⠀⠀⠀⠀⠀⠀⠀
Available now on Kindle Unlimited!⠀⠀⠀⠀⠀⠀⠀
One-click Lucas (Book 1): mybook.to/lucas⠀⠀⠀⠀⠀⠀⠀⠀⠀
One-click Logan (Book 2): mybook.to/logan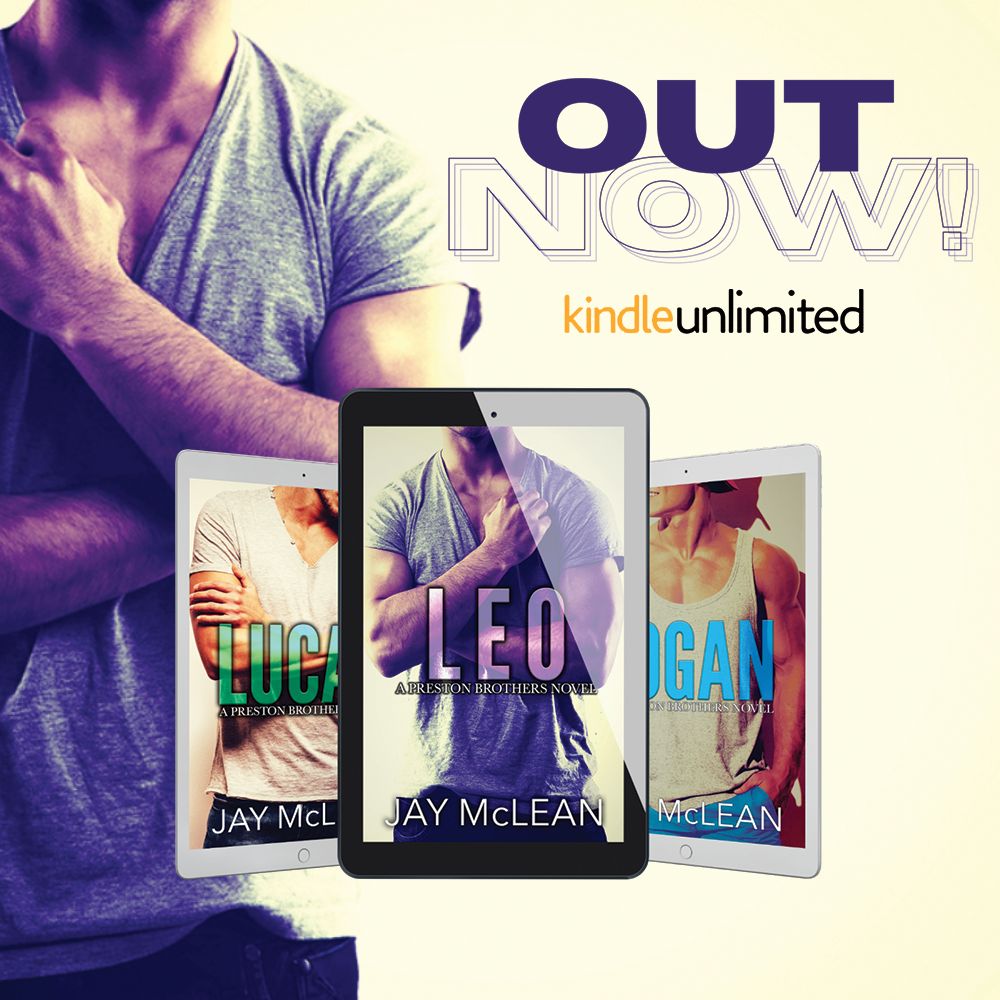 GIVEAWAY
To celebrate the release of Leo, Jay McLean is giving away a $50 Amazon Gift Card! Stop by her Facebook page to enter!
https://www.facebook.com/jaymcleanauthor
TEASERS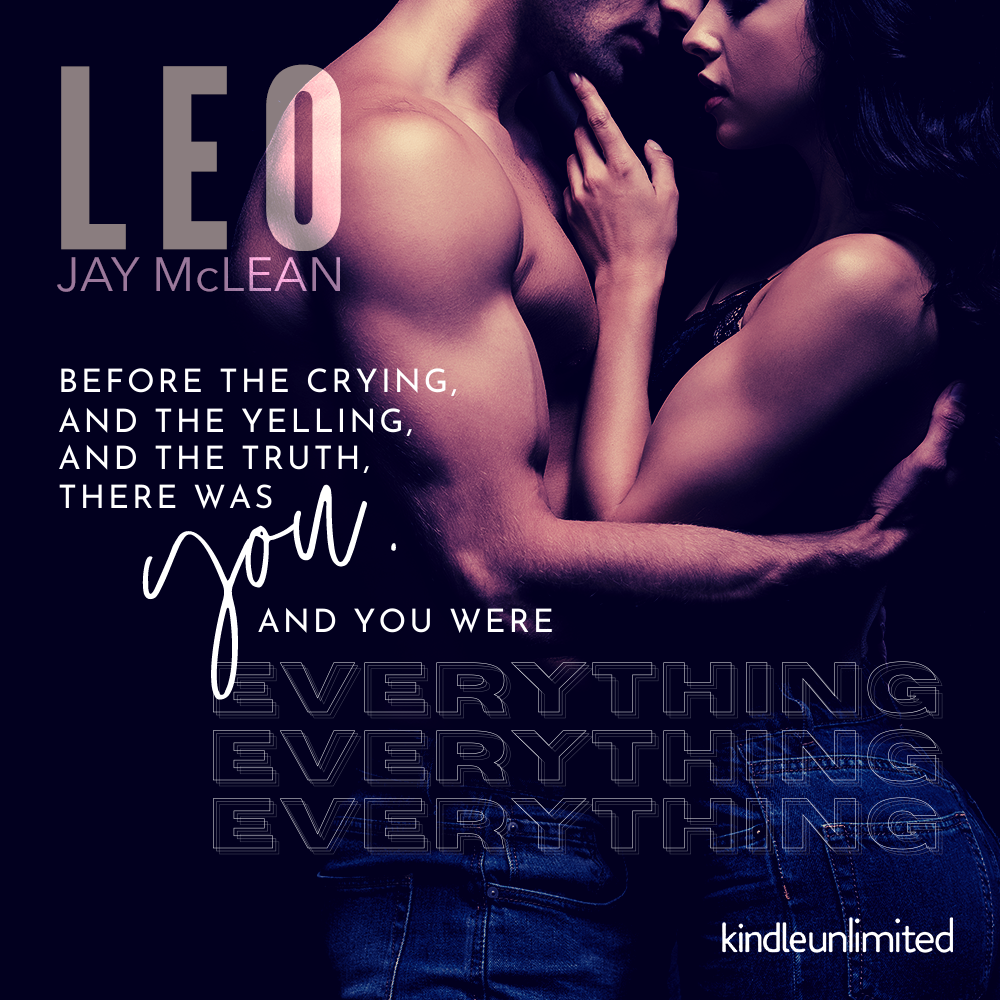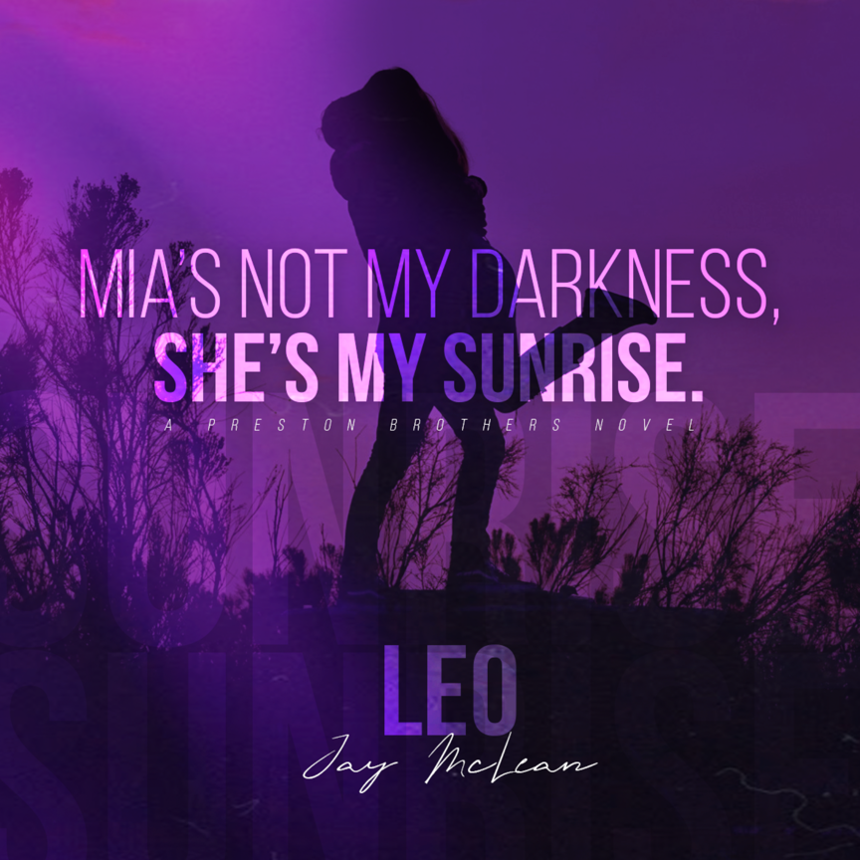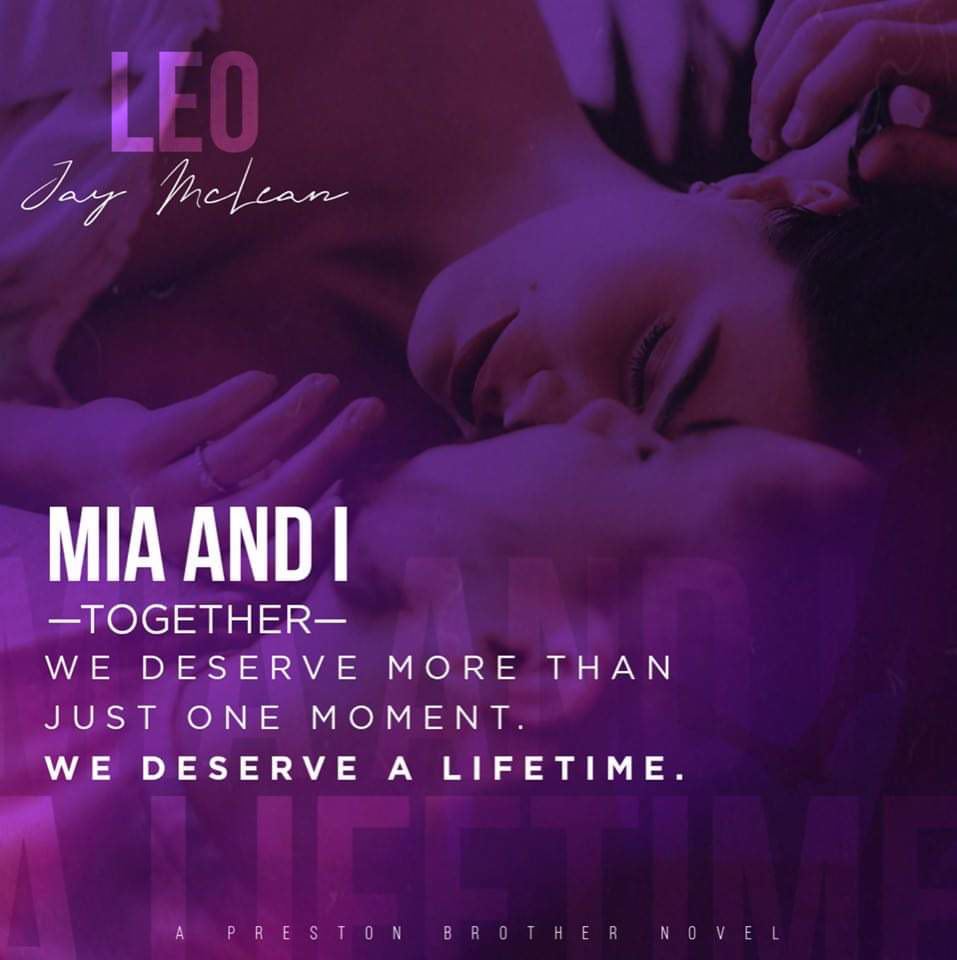 ABOUT THE AUTHOR

Writer. Reader. Mom. Wife. Master of awkward Sarcasm.
Jay McLean is a full-time reader, writer of New Adult and Young Adult romance, and skilled procrastinator. When she's not doing any of those things, she can be found running after her three boys, investing way too much time on True Crime Documentaries and binge-watching reality TV.
She writes what she loves to read, which are books that can make her laugh, make her hurt and make her feel.
Jay lives in the suburbs of Melbourne, Australia, in her dream home where music is loud and laughter is louder.
AUTHOR LINKS
Facebook | Fan Group | Web | Twitter | Instagram | Newsletter | Books
Review:
I've been a fan of Jay Mclean way before I started doing book reviews. Her releases have always been under my radar ever since the More Than series. So you better believe that I've gotten my hands on the third installment of the Preston Brothers books!
What I loved about Leo is that this is not your usual coming of age story. Leo and Mia's story was so heart-wrenchingly beautiful that you will definitely need a little more time to decompress. There hasn't been a lot of books that have moved me to tears of the years, but Leo, in its perfectly angsty and emotional plot, has reduced me to tears.
I must say that I really felt Mia's struggles. A girl's teenage psyche is a fragile thing and seeing her break little by little made my heart ache for her even more. And then there's Leo. He's not your typical male lead either. He has a quiet aloofness to him and he's broody (which we all love). But the thing that endears me the most about him is that he keeps the people he loves close to his heart. He's a sensitive guy but that what makes him more special.
I also think that Mia and Holden's relationship deserves a special shoutout in this review. I would have loved to have a male friend like Holden growing up. And can I just say kudos to the author for not giving in to the best friend's love triangle troupe? I loved their purely platonic relationship. It was a perfect plot device for this story.
I've read all the Preston Brothers series and not one has ever disappointed me. But I must say, Leo is my favorite so far. It truly holds a special place in your heart once you read it.
Rating: 5/5